Partner with PA CareerLink® Lehigh Valley to find Workers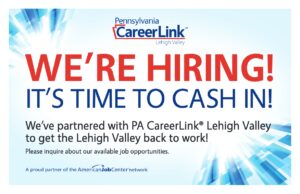 We want to ensure the Lehigh Valley has the workforce it needs for your business to grow! PA CareerLink® Lehigh Valley is your employment partner in helping you find qualified employees through on-site events, and other unique staffing opportunities like Recruiting Assistance, On-the-Job Training and Upskilling. We work with targeted populations like Dislocated Workers, Veterans, Re-Entrants, and recent graduates to name a few offering many services and resources for hiring and training. We can also help you develop Career Pathways within your company. Over 250 employers are using Career Pathways to recruit, retool, upskill and retain workers.
Sign Up for a Sign!
If you need workers, we can help!
To get hiring, call Mike Dopkin at 610-841-1022.
Mike Dopkin | CareerLink Administrator Bureau of Workforce Partnership & Operations Pennsylvania Department of Labor & Industry 555 Union Blvd | Allentown, PA 18109 Phone 610.841-1022| Fax 610.434.4122 TTY 610.437.0741
PA CareerLink® Lehigh Valley Delivers!
Fill out the form below and get hiring!