We Can Help You Find a Job
Whether you are looking for your first job, making a career change, or want to move up the career ladder, we can help you job search. How? With access to thousands of jobs through the Pennsylvania CareerLink® job matching website at www.pacareerlink.pa.gov.
Our Services Are Free
Visit our Welcome Center to learn how we can help you find a job through our employment and training services. We have a variety of free Core Services that are available to all job seekers in the Lehigh Valley, and we can also help you with your online job search!
In addition, you may qualify for our Intensive Services. These services provide customized job search assistance, training services such as classroom and on-the-job training (OJT), and more. Through Intensive Services you can also meet with one of our Career Advisors, who will help you develop an Individualized Employment Plan, and a Recruiter to assist you with your job search.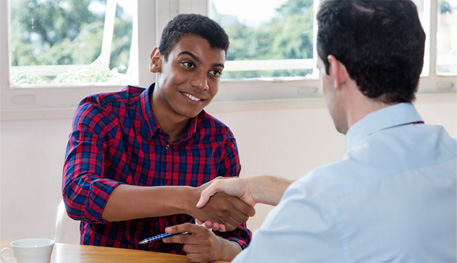 We hope you will take advantage of our employment resources online, but remember that a caring staff member is only a phone call away at 610-437-5627. Additionally, our Career Resource Centers are equipped with all the resources you need to begin to your job search!
Our PA CareerLink® Lehigh Valley centers are funded primarily by the Pennsylvania Department of Labor and Industry and are chartered by the Workforce Board Lehigh Valley, who "guarantees that the employment, training, and labor market services and information you receive through our workforce delivery system are professional, comprehensive and on target."
Questions or comments? Please call us at 610-437-5627, or e-mail us.