We Can Help You Find a Job
Whether you are looking for your first job, making a career change, or want to move up the career ladder, we can help. How? With access to thousands of jobs through the Pennsylvania CareerLink® job matching website at www.pacareerlink.pa.gov.
Our Services Are Free
Visit our Welcome Center to learn how we can do to help you find a job through our employment and training services. We have a variety of Core Services available to all job seekers in the Lehigh Valley and we can help you with your on-line job search. In addition, you may qualify for more Intensive Services. These services provide customized job search assistance, training services including both classroom and on-the-job training (OJT), and provide you with the opportunity to meet with a Career Advisor who will help you develop an Individualized Employment Plan and a Recruiter to assist you with your job search.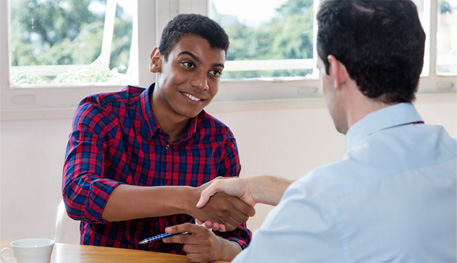 Attend one of our WIOA (Workforce Innovation and Opportunity Act) Overview workshops to learn more and see if you qualify for more intensive employment and training services
We hope you'll take advantage of our resources on-line, but remember that a caring staff member is only a phone call away at 610-437-5627 and our Resource Centers are equipped to help you with your employment search. The Centers have all the resources you need to begin your search.
Our PA CareerLink® Lehigh Valley centers are funded primarily by the Pennsylvania Department of Labor and Industry and are chartered by the Workforce Board Lehigh Valley, who "guarantees that the employment, training, and labor market services and information you receive through our workforce delivery system are professional, comprehensive and on target."
Questions or comments? Call us at 610-437-5627, or e-mail us.
Online employment scams are on the rise and many are resurfacing, including a scam involving interviews over Google Hangouts that has affected job seekers in the Lehigh Valley and throughout Pennsylvania and the United States.
The scam typically begins with someone posing as a representative (from a real company) who will contact you to extend an offer for an interview via Google Hangouts. They present the position as solely work from home with flexible hours, a high pay rate and more. Once you are hired, they send you a check to cover the purchase cost of a computer and/or software you will need for the job. The recruiter tells you to deposit the check in your bank account and instructs you on how to transfer the money to an "approved vendor."
Here's the catch: the scammers' check and account are both fake, but your bank will let you withdraw the money before the check is cleared. By the time the check bounces, you have likely already transferred the money to the scammer or their accomplice, the bank wants the money back from you, and now you're out thousands of dollars.
In a February 2018 article, the Better Business Bureau went into detail about one alarming fake job scam in Greensboro, North Carolina that played out exactly this way. Luckily, the victim was able to identify that she was being scammed and stopped it before it went any further.
Real employers will never conduct interviews over online chat or instant messenger only. Make sure you know how to detect chat interview scams and what actions to take should you become suspicious that you are being scammed. Learn the warning signs and receive helpful tips from ZipRecruiter and the PA Bureau of Consumer Protection. Please educate and protect yourself to avoid becoming a victim of this dangerous scam!